Extruder in the broadest sense (from Latin extrudere = eject, push out) is a machine for giving the mixture a homogeneous consistency and squeezing it or its polymer melt through the extrusion nozzle. This process is used in the chemical, food, feed mill industry, the production of profiles, polymers, plastic products and more others fields. Extrusion technology as such has existed for more than sixty years and in the glass industry - even younger, but during this time machine tools, sealants and the technology of their application have undergone a definite evolution as well.

With reference to our field the word "extruder" got used to a suitable short definition of the machine. The first original name "press", for example, for a butyl extruder is not enough correct and today's German definition "Two-component high-pressure mixing and dosing machine" for the manual sealing machine much more precisely, but too long for the production lexicon and technical term. We consider for glass and related industries several types of extruders according to their purpose. They are described in more detail in our subitem New machinery.
are differed two main methods of work: cold, warm and/or hot extrusion. Cold extrusion - only mechanical changes in the material are possible due to its slow movement under pressure and the molding of this product with the formation of specified forms. Examples: polysulfide, polyurethane, silicone extruders. Warm and hot extrusion - the process occurs at relatively high speeds and pressures and heat supply. Examples of warm extrusion: butyl and hotmelt extruders.

are devided one-component, two-component and multi-component sealants or adhesive masses. An example of a one-component use of the material: extruder of 1-c silicone, lubricant, glue, resin, etc. An example of a two-component use of the material: two-component polysulfide (thiokol), polyurethane or silicone extruder.
of the sealant or glue they separate the liquid, medium-pasty or high-pasty components of the sealants. An example of a two-component pasty material: polysulfide (thiokol), silicone, polyurethane. An example of a liquid material: epoxy resins. An example of mixed components, for example: a paste-like base component and a liquid hardener: polyurethane, silicone.

it is possible from 1:1 to 1:100 or on request.
are divided internal (in the factory) or external - on the open (building)area.
The butyl or hotmelt extruder consists of: sealant loading unit, drive, housing with heating elements, control systems and unit for melt application of one-component material. A two-component polysulfide, polyurethane or silicone extruder consists of: sealant components loading unit, drive, control system, dosing unit and mixing line of two-component sealant. A single-component extruder consists of: material loading unit, drive, control system and material application unit.
The optimal design of dosing and mixing systems requires a profound knowledge about the materials to be processed. Viscosity, abrasivity, thixotropy, processing temperature, mixture pot life, reactivity and reaction rate - all these factors determine the construction of the optimal technological designing and its equipping, from individual sealings in pumping systems to the configuration of complete extruder for gluing or sealing. Send us your request to our E-mail and we will gladly give you a competitive offer for your project.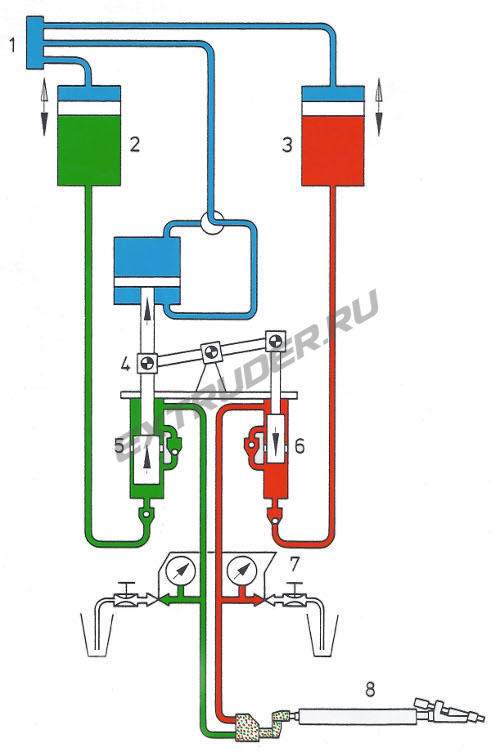 Extruder scheme of work
Pneumatic or hydraulic drive
A-component
B-component
Dosing unit
A-dosing pump
B-dosing pump
Dosing control
Mixing line